Photo by Brett Jordan on Unsplash
Have you ever been unsure about what to pray for? Sometimes it can be helpful to have a starting point – something to inspire you as you begin spending time with God.
Today we're going to do just that. This activity has been inspired by our wonderful friend Jess from St Thomas Baptist Church – thank you Jess!
All you need is: a 6 sided dice and a print out of the chart below.
(you can download the chart to print here:  Prayer Dice Chart)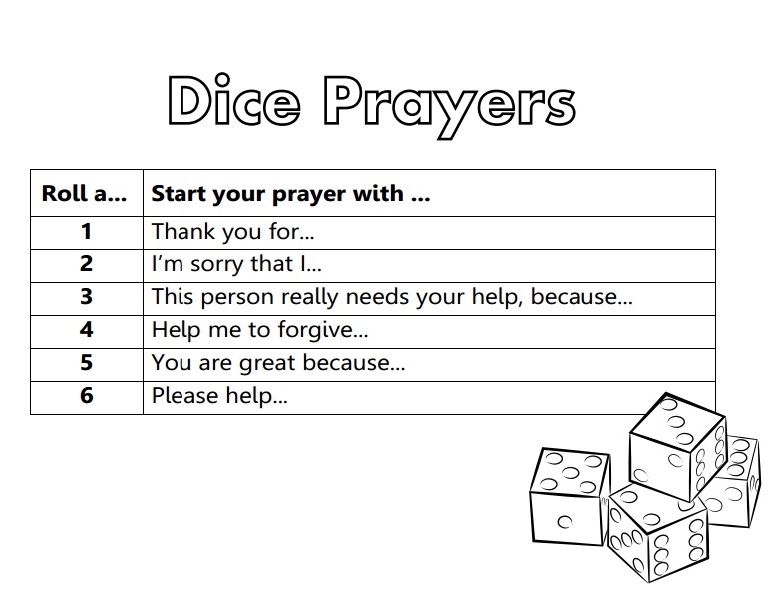 First of all, think about how you want to do your prayer time. You might want to find a quiet and comfortable space to help you to be free of distractions. Or you might like to invite some other people to join you and do this activity together. Whichever you would prefer!
Take the dice and roll it – look at the number that comes up and then look at the chart. It will give you an idea of what to start your prayer with.
Then – pray! Try starting your prayer with the idea you rolled for and then why not keep on going. You might find that you have lots to talk to with God about that has been inspired by the thing that you rolled. If at any point you run out of things you'd like to say, why not take a moment to sit and spend time with God in the quiet, enjoying His presence. Or you might want to roll the dice again and find another prayer starter to help you.
I hope that this can help you as you explore prayer. There are lots of things that we can talk to God about, and the ones on the charts today are just a beginning. The great thing about prayer is that God knows us through and through so we can talk to Him about anything and everything.
Why not give it a go today!